HPSW Meeting September 18 : 7pm-9pm Lori Brakken on Gardening on a Steep
Gardening on a Steep, North Facing Slope: It's a Challenge!- Lori Brakken
Lori Brakken, apple ID expert and landscape architect, will join us at our September meeting to talk about her gardening experiences..
Lori has an espalier fence with more than 40 apple trees growing in an elevated bed., supported by bamboo trellising. She has grafted additional varieties to the espaliered trees, so she now has about twice that many varieties of pomme fruit wood. She also grows grapes, blueberries, persimmon, apricots, and plums.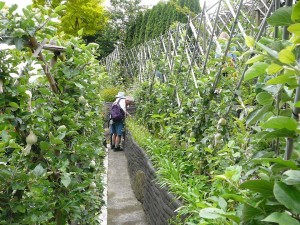 Meeting at Center for Urban Horticulture;  NHS Hall Section A,
Doors open at 6:30 for Seed Sales and food & socializing .
Door prizes and a short business meeting will start at 7:00 followed by Lori's talk
3501 NE 41st St. Seattle, WA 98105  MAP
Comments are closed.